Lupo Mercuri portrayed by Nick Dunning, and serves under Pope Sixtus IV. He aids Count Girolamo Riario in attempting to prevent Da Vinci finding "The Book of Leaves." Lupo is a Fallen Son of Mithras; something revealed in Episode One: "The Hanged Man." In episode Two it is revealed that Lupo is Curator of the Secret Archives. Later in Episode Three: "The Prisoner," Lupo comes to burn the then unknown "supposedly" possessed but poisoned by Ergot people. Lupo says he comes as "Prefect of the Congregation of Rights." Subsequently, he discovers people were poisoned by Ergot kissing the feet of the statue of Saint Anthony. Lupo leaves saying, "Count Riario and I will have a lot to discuss." In episode six "The Devil," Lupo is seen laughing about the task which enrages Pope Sixtus IV. Consequently, Pope Sixtus IV almost forcibly drowns Lupo Mercuri, whilst Lucrezia Donati and Count Girolamo Riario stand by in a cowardly fashion; so as not to enrage the Pope. However, at what seems the last moment, Girolamo Riario finally asks: "would not the good Lord show mercy?" Thus, in response to such inquiry, Sixtus IV turns away from Lupo and leaves him alive, targeting Girolamo Riario whom he punches leaving Lupo to recover. In the new season Episode One: "The Blood of Man" Lupo's allegiance to Count Girolamo Riario stops and his allegiance to Rome begins to drift. Lupo decides not to follow Riario across the sea to attempt to find the Book of Leaves, and instead stays in Florence. In episode two: "The Blood of Brothers," Lupo does not appear, however in episode three: "The Voyage of the Damned" Lupo finds from Lucrezia Donati that Pope Sixtus IV is the impostor twin brother of the actual Pope Sixtus IV held in prison beneath Rome.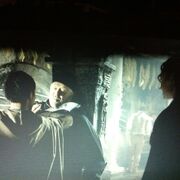 In episode One "The Hanged Man", known as Curator of the Secret Archives.
In episode Three "
The Prisoner
" is known as Prefect of the Congregation of Rights.